Corporate Mission / Corporate Mission
President's Message
Dow-Mitsui Polychemicals Co., Ltd. is a joint venture between Mitsui Chemicals, Inc., one of Japan's leading chemical companies, and Dow Chemical Company of the United States, a world-leading solution provider in material chemistry. Since our establishment in December 1960, we have conducted our business with the aim of contributing to our customers through the development of unique products, with the manufacture and sale of ethylene-based functional resins as our core business. In order to accurately respond to the diversifying needs of our customers in Japan and overseas, we have fostered highly original products and proposals by making full use of our advanced manufacturing technology and R&D capabilities.
Our corporate philosophy is to contribute broadly to society by providing high-quality products and services. This is based on our belief that environmental preservation and safety are the foundation of corporate survival in society. We are committed to developing and providing products that our customers can use with peace of mind, while striving to reduce our environmental impact and ensuring that our employees work in a healthy, safe, and rewarding environment.
We will continue to be a trusted partner to our customers.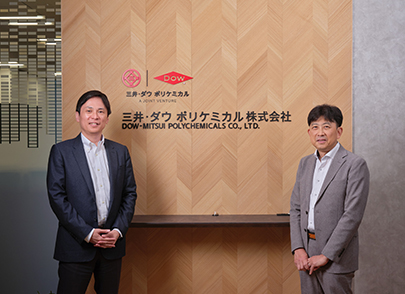 Dow-Mitsui Polychemicals Co., Ltd.
President & CEO
Ryoji Kato
Corporate Mission
Preserving the environment and ensuring safety are a company's social responsibilities. Without these assurances, the company will not develop and last.
Through the provision of high quality products and services, we will widely contribute to society.
Corporate Action Guidelines
Every officer and employee of Dow-Mitsui Polychemicals will act in accordance with the following Action Guidelines to achieve the sustainable social and corporate development through contributions to stakeholders.
* Stakeholders: Customers, business partners, shareholders, investors, local communities, industry and academia, government and administration, employees and the labor market, and the global environment
"Acting with integrity"...We will always act in good faith.
Compliance with laws and regulations

We will give priority to compliance with laws and regulations over any pursuit of any profit.
We will essentially treat company information and personal information as confidential, and manage it appropriately to avoid information leaks.
Honesty

We will live up to our conscience with honest words and actions.
Prohibition of discrimination

We will not tolerate discrimination against gender, race, nationality, age, religion and disabilities.
Justice and fairness

We will strictly observe fair competition and trade.
Transparency

We will promptly report and provide precise information without distinguishing between favorable or unfavorable information.
Practice of Corporate ethics

We will maintain a high sense of ethics that is appropriate for businesspeople and act in an honest and fair manner.
"Valuing People and Society"...We will have a high regard for people and society.
Safety first

We will act with a mind-set focused on safety-first policy above all.
Contribution to the global environment

We will conduct R & D, manufacturing and sales activities that will contribute to the protection of the global environment.
Customer satisfaction

We will promptly provide high-quality products and services by accurately grasping customer needs.
Contribution to communities

We will contribute to the development of local communities as a member of the community.
Health enhancement

We will be mindful of enhancing our health and making our workplaces vibrant.
Respect for diversity

We will have mutual respect for the diversity of personalities, individualities and views.
"Dream-Inspiring Innovation"...We will aim for an innovation with a dream.
Challenging spirit

We will unflinchingly take on challenges with full trust in our potential without fear of failure.
Creativity

We will create novel values by enhancing our sensitivity.
Workplace-oriented approach

We will always consider and act proactively based on the actual data and facts at workplace.
Self-improvement

We will aim to be world-class professionals with a global view.
Technology dissemination

We will pass on our experience and skills we have cultivated over the years and strive to develop the next generation of human resources.
Teamwork

We will integrate individual strength into the organization through active communication.