Usage detail
Easy-peel lid materials, general soft packaging, heat sealing and thermal laminating for paper, non-woven fabric, wood and photographic printing paper, etc.
Overview
Grade Chart
Physical properties
Usage detail
Product Safety Information
Introduction
CMPS™ is a heat sealing material that boasts low temperature heat sealing properties that are superior even to EVA and ionomers. It can heat seal a wide variety of materials, and features peel open properties when used on some plastic films and sheets.
CMPS™is an extrusion coatable, multi-purpose sealing resin developed with the proprietary technologies of Dow-Mitsui Polychemicals.
Features
Low temperature heat sealing properties

CMPS™ has extremely good low temperature heat sealing properties. Adequate seal strength between two pieces of CMPS™ can even be obtained at 90ºC.
Gives heat sealing properties to a wide range of base materials

In addition to films and sheets including polyethylene, polypropylene, polystyrene and PVC, CMPS™ can also heat seal materials such as paper, paperboard, woven fabric, non-woven fabric, wood and photographic paper.
Peel open properties

On the majority of the plastic films and sheets described above, CMPS™ also exhibits peel open properties.
Transparency

CMPS™ has good transparency.
Usage Precautions
Originally, protecting the contents of packaging and giving packages easy opening properties were contradictory concepts in many ways, and there was a limited scope within which the two could be balanced.
For this reason, when actually using CMPS™, it is necessary to always fill packaging with contents to conduct tests, and only commercialize packaging after confirming its sealing and peeling open properties.
CMPS™
Grade
Test item
Melt flow rate
Density
Tensile stress at break
Tensile breaking strain
Bending rigidity
Durometer
D hardness
Vicat
softening temperature
Food hygiene
◯: Listed (acquired), ✕: Not listed (not acquired) - : Unknown
1) Dow-Mitsui Polychemicals has not conducted an elution test using a food simulant-solvent.
2) Even if it is listed (acquired), there may be various restrictions and other requirements, please make sure to confirm the details with us.
3) Food hygiene information does not necessarily reflect the latest version of each law or regulation (including voluntary standards). Please be sure to confirm the details with us.
Measurement method
JIS K7210:1999(190ºC / 2.16 kg load)
JIS K7112
:1999
JIS
K7161-1:2014
K7161-2:2014*1
JIS
K7161-1:2014
K7161-2:2014*1
JIS K7106
:1995
JIS K7215
:1986*2
JIS
K7206:1999
Unit
g/10min
kg/m3
Mpa
%
Mpa
-
℃
MHLW Positive
Lists
JCII Center JHOSPA Type
Confirmation Certificate
US
FDA21CPR
European
PIM
V207
18
940
15
700
60
40
63
◯
◯
◯
◯
V70
9
920
21
900
38
35
54
◯
◯
◯
◯
V8021
31
980
14
800
27
32
46
◯
◯
◯
◯
VN503
32
940
14
600
54
44
53
◯
◯
◯
◯
← Swipe →
* 1 Tensile test - test piece type and testing speed: JIS K 7161-2 / 1BA / 20
* 2 Measurement instrument: Asker P-2 sensor descent rate: 10.0 mm / s
· Note: The data above are typical values and cannot be used as standard values.
· Only typical grades are listed in this table. Please contact Dow-Mitsui Polychemicals to inquire whether there are any grades other than those listed.
Physical properties
List of sealing properties on other materials for each CMPS™ grade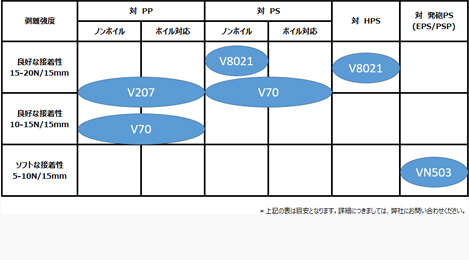 Sealing properties of V70 on other materials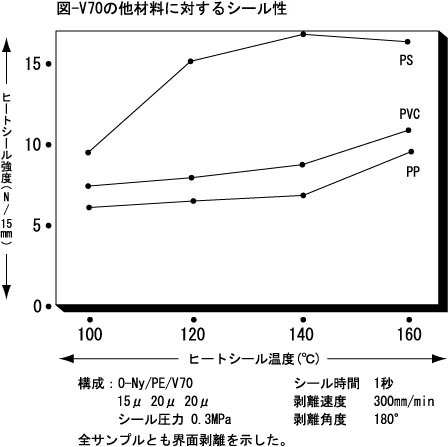 Sealing properties of VN503 on other materials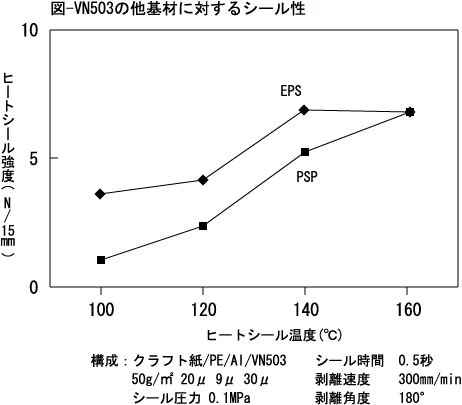 Usage detail
CMPS™ is used as a material for the following kinds of products.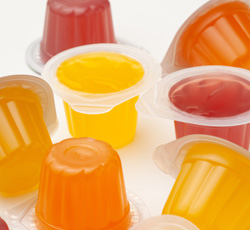 Applications of CMPS™
Cover tape for transporting electronic components
1. Easy open and peel open lid materials

Compositions such as OPP/PE/CMPS™, PET/PE/CMPS™ and Paper/PE/Al/CMPS™ are used as the lid materials for injection molded and vacuum molded containers made from polypropylene, polystyrene, PVC and so on. Examples: Food (pudding, jelly, yogurt, side dishes, instant noodles, etc.), electronic materials
2. Flexible packaging materials (regular flexible packaging materials)

Low temperature heat sealing properties are utilized to even use CMPS™ as the sealing layer of flexible packaging materials (regular flexible packaging materials).
Examples: Confectionery, snacks, chocolate
3. Others

As CMPS™ is able to heat seal or thermally laminate paper, woven fabric, non-woven fabric, wood and photographic paper, it is also applied to fields such as building materials, wall materials and textile products.
Product Safety Information
1. Medical applications
Please do not use this product for permanent implantation in the human body or for medical applications involving a state of permanent contact with bodily fluids or human tissue (in this case, permanent means 30 days or more.)
Additionally, please consult with Dow-Mitsui Polychemicals in advance if you wish to use the product for other medical applications, such as for a medical device as defined in the Act on Securing Quality, Efficacy and Safety of Products Including Pharmaceuticals and Medical Devices.
2. Food packaging applications
Please contact Dow-Mitsui Polychemicals regarding the state of inclusion in (conformity to) domestic and overseas laws or regulations regarding food utensils, containers and packaging materials.
Outside of Japan, some grades of CMPS® easy peel resin are available as 'APPEEL™' from the Dow Chemical Company.