Usage detail
Adhesive materials, modifiers, extruded coatings, etc.
Overview
Grade Chart
Molding methods
Usage detail
Product Safety Information
Introduction
HPR is a collective term for "modified resins," which are the various ethylene-based copolymer resins produced and sold by Dow-Mitsui Polychemicals that have been chemically modified based on technological capabilities cultivated over many years.
When an ethylene-based copolymer resin is chemically modified, the properties of the resin prior to modification are retained, while the resin gains special functions due to the modification.
Features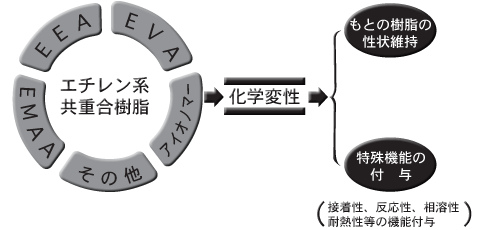 Handling precautions
VThe VR and AR series are resins with high moisture absorbency. If residual resin is left in a hopper or bag for an extended period after molding is complete, especially under high humidity, it could cause foaming when next processed due to the absorption of moisture.
Please store any residual resin sealed in a moisture-proof bag.
When processing resins of each series, please observe the maximum processing temperatures listed in the selection guidelines.
Please avoid keeping resin in an extruder or die for extended periods, as it could cause problems such as altering the resin.
When shutting down a molding machine after molding, thoroughly purge and replace the inside of the molding machine with polyethylene.
HPR
Grade
Test item
Melt flow rate
Density
Tensile
stress at break
Tensile
breaking strain
Bending rigidity
Durometer
A hardness
Vicat
softening temperature
Melting point
Measurement method
JIS K7210:1999(190ºC / 2.16 kg load)
JIS K7112
JIS
K7161-1:2014
K7161-2:2014

*

1
JIS
K7161-1:2014
K7161-2:2014

*

1
JIS K7106
:1995
JIS K 7215
:1986
JIS
K7206:1999
(DSC)
Unit
g/10min
kg/㎥
Mpa
%
Mpa
-
℃
℃
VR105-2
18
980
2.3
1670
-

*

2
39
40>
-

*

3
AR2011
8.0
950
4.2
920
6
66
40>
76
VS171
5.5
940
17
720
49
93
62
92
← Swipe →
*1 Tensile test - test piece type and testing speed: JIS K 7161-2 / 1BA / 20
*2 Out of measurable range of the measuring instrument
*3 Without melting point or non-crystalline
·Note: The data above are typical values and cannot be used as standard values.
Usage detail
The following processing methods are applicable to each HPR series.
Table HPR Processing Method Selection Guideline
Series
Upper limit of
processing
temperature (°C)
Extrusion
coating
T-die
casting
Extrusion
molding
Melting
kettle melting
Solvent dissolution
(toluene)
VR
230
VR105-2
(23℃/15wt%)
(40℃/35wt%)
AR
280
AR2011
AR2011

AR2011
AR2011
VR105-2
(23℃/ 5wt%)
(40℃/20wt%)
VS
245
VS171
VS171
VS171
← Swipe →
The special features and main applications granted to each HPR series are as follows
Table Main Features and Applications
Series
Base resin
Special Features
Main applications
VR
EVA

Adhesion to polar materials (metals, nylon, glass, PVC, etc.)
Reactive (reacts with -OH, -NCO, -NH2 groups)

Film-type adhesive
Solution-type adhesives (for print lamination)
Hot melt adhesives
Electric wire (watertight cable)
Modification and adhesion of resins (polyolefin, rubber, PVC, etc.)

AR
EEA

Compatibility with other resins
High fillability of pigments and inorganic materials
Adhesion to polar materials (metals, nylon, glass, etc.)
Reactivity (reaction with -OH, -NCO, -NH2 groups)

Modification of engineering resins
Base resin for pigment and inorganic masterbatches
Paint primer
Co-extruded film adhesive layer

VS
EVA

Water-resistant adhesion
Adhesion to polar materials (metal, nylon, glass, PVC, etc.)

Electric wire (watertight cable)
← Swipe →
Product Safety Information
1. Medical applications
Please do not use this product for permanent implantation in the human body or for medical applications involving a state of permanent contact with bodily fluids or human tissue (in this case, permanent means 30 days or more.)
Additionally, please consult with Dow-Mitsui Polychemicals in advance if you wish to use the product for other medical applications, such as for a medical device as defined in the Act on Securing Quality, Efficacy and Safety of Products Including Pharmaceuticals and Medical Devices.
2. Food packaging applications
Please contact Dow-Mitsui Polychemicals regarding the state of inclusion in (conformity to) domestic and overseas laws or regulations regarding food utensils, containers and packaging materials.